IBM Spectrum Scale, based on IBM General Parallel File System (GPFS™) , is a proven, scalable, high-performance file management system that is being used extensively across multiple industries worldwide. IBM Spectrum Scale provides simplified data management and integrated information lifecycle tools capable of managing petabytes of data and billions of files, in order to address the growing cost of managing ever growing amounts of data.
Some of the key benefits of IBM Spectrum Scale:
Modern scale out architecture
A global namespace that can spans datacenters and the globe
Access file data directly or using NFS, SMB, Object and Hadoop
Virtually limitless performance and capacity scaling
Automated data placement and data migration
Leverage less expensive commodity storage
Integrated with IBM Spectrum Archive and IBM Spectrum Protect
A long history of proven reliability across multiple industries
What IBM Spectrum Scale can do for your business
Enterprises and organizations are creating, analyzing and keeping more data than ever before. Those that can deliver insights faster while managing rapid infrastructure growth are the leaders in their industry. In delivering those insights, an organization's underlying storage must support new-era big data and artificial intelligence workloads along with traditional applications while ensuring security, reliability and high performance. IBM Spectrum Scale™ meets these challenges as a high-performance solution for managing data at scale with the distinctive ability to perform archive and analytics in place.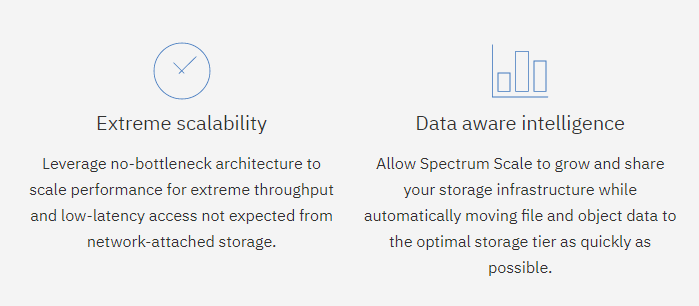 Key features of IBM Spectrum Scale
Provides extreme scalability
Reduces storage costs
Improves security and management efficiency
Global file sharing with active file management
Transforms data economics
Manage and gain insights from massive amounts of data
Available on Amazon Web Services
Improves security and management efficiency
Colin Morey, system architect, explains how Hartree Centre uses the management
efficiency capabilities of IBM Spectrum Scale to help connect scientists and industry.
Transforms data economics
IBM Spectrum Scale transforms data economics for traditional and next-generation
applications with great speed, agility and efficiency.
Manage and gain insights from massive amounts of data
IBM Spectrum Discover is modern metadata management software that provides data
insight for petabyte-scale unstructured storage. It connects to IBM Spectrum Scale or IBM
Cloud Object Storage to rapidly ingest, consolidate and index metadata for billions of files
and objects, enabling data scientists, storage administrators, and data stewards to
efficiently manage, classify and gain insights from massive amounts of unstructured data.
Software requirements
No software requirements for IBM Spectrum Scale
Hardware requirements
Hardware supported: x86 architecture: Intel EM64T processors or AMD Opteron, minimum 1 GB system memory IBM POWER® architecture: AIX v6.1 or v7.1, Linux on POWER3 (minimum), minimum 1 GB system memory; z Systems (Linux only)
IBM AIX®; Linux: Red Hat, SUSE Linux Enterprise Server; Microsoft Windows Server 2012, Microsoft Windows 7; IBM z Systems™
Technical specifications
Operating systems supported: IBM AIX®; Linux: Red Hat, SUSE Linux Enterprise Server; Microsoft Windows Server 2012, Microsoft Windows 7; IBM z Systems™
Protocols: POSIX, GPFS, NFS v4.0, SMB v3.0; Big data and analytics: Hadoop MapReduce; Cloud: OpenStack Cinder (block), OpenStack Swift (object), S3 (object)
Cloud object storage: IBM Cloud Storage System (Cleversafe), Amazon S3, IBM Cloud Native Object, OpenStack Swift and Amazon S3 compatible providers
Maximum number of files/file system: 264 (9 quintillion) files         per file system
Maximum file system size: 8 Exabytes (EB)
Minimum/maximum number of nodes: 1 - 16,384