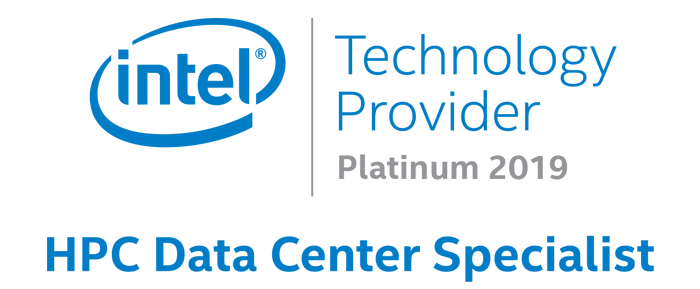 Intel's (NASDAQ: INTC) innovation in cloud computing, data center, Internet of Things, and PC solutions is powering the smart and connected digital world we live in. You may know them for their processors, but they do so much more. Intel invents at the boundaries of technology to make amazing experiences possible for business and society, and for every person on Earth.
Harnessing the capability of the cloud, the ubiquity of the Internet of Things, the latest advances in memory and programmable solutions, and the promise of always-on 5G connectivity, Intel is disrupting industries and solving global challenges. Leading on policy, diversity, inclusion, education and sustainability, they create value for their stockholders, customers and society.
Featured Products
Intel® Server System S9200WK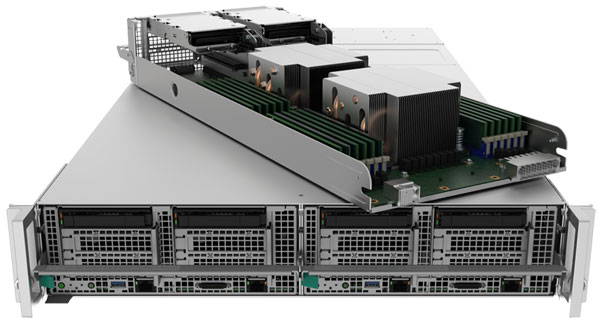 The Intel® Server System S9200WK product family is a purpose built, performance-optimized data center block ideal for use in High Performance Computing (HPC) and Artificial Intelligence (AI) applications. Designed for Intel® Xeon® Platinum 9200 series processors, with up to 24 DDR4 DIMM slots per compute module, the S9200WK family maximizes processor and memory bandwidth to provide leadership performance for the most demanding compute use requirements.
Download the Product Brief to learn more about how the Intel Server System S9200WK Product Family is the ultimate density optimized system solution for today's broadest variety of HPC and AI applications and use cases.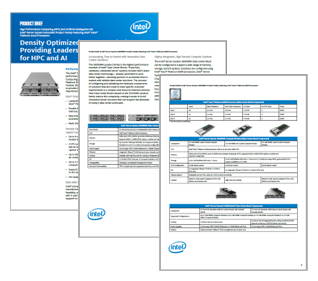 Intel® Optane™ SSD 905P delivers breakthrough performance to meet today's most demanding storage workloads. (And did we mention it's really fast?)
The Intel® Optane™ SSD 905P is designed for the most demanding storage workloads, delivering high random read/write performance coupled with ultra-low latency and industry-leading endurance. Built with Intel Optane technology, a revolutionary class of non-volatile memory, the Intel Optane SSD 905P is empowering everyone from enterprise users to university researchers to extract greater platform performance.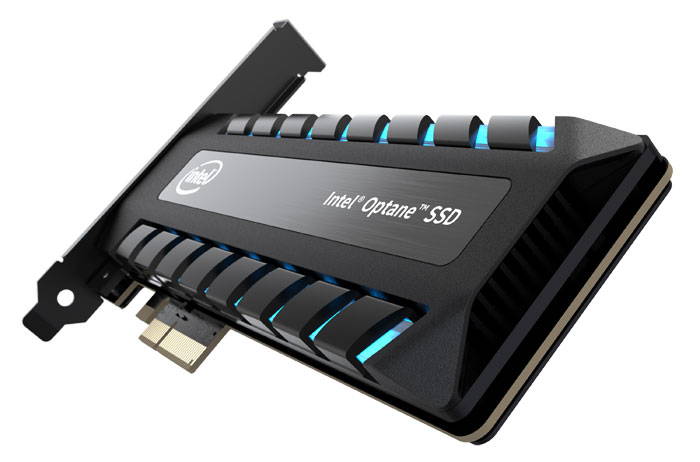 905P Notable Features:
Provides random storage performance of up to 575K/550K IOPs (4K random reads/writes).
High throughput at low queue depth.
3D XPoint™ memory media.
960GB drive equipped with the add-in card (AIC) form factor top supplement functionality.
Download the Intel® Optane™ SSD 905P Product Brief below for complete feature information.
Intel® SSD DC S4600 and DC S4500 Series Meets Growing Data Center Needs with Inventive Design
Now available in the revolutionary "ruler" form factor
The Intel® SSD DC P4500 Series—a member of the Intel 3D NAND SSD family—delivers an all new design to support cloud storage and software-defined infrastructures. The Intel SSD DC P4500 Series is combines high performance, capacity, manageability, and reliability to help data centers fast-track their business. To meet data center's exacting needs for growing capacity, easy serviceability, and thermal efficiency, the DC P4500 is now available in the revolutionary "ruler" form factor.
The "ruler" form factor, so-called for its long, ruler-like shape, shifts storage from the legacy 2.5-inch and 3.5-inch form factors that follow traditional hard disk drives – and the add-in card form factor, which takes advantage of PCIe card slots – and delivers on the promise of non-volatile storage technologies to eliminate constraints on shape and size. The form factor delivers the most storage capacity for a server, with the lowest required cooling and power needs. The next-generation "ruler" form factor SSDs using Intel® 3D NAND technology enables up to 1PB in a 1U server – enough storage for 300,000 HD movies, or about 70 years of nonstop entertainment.
The Intel SSD DC S4500 and S4600 Series combine a new Intel-developed SATA controller, innovative SATA firmware and the industry's highest density 32-layer 3D NAND. These storage-inspired SSDs preserve legacy infrastructure, ensuring a simple transition from hard disk drives to SSDs, while enabling data centers to reduce storage cost, increase server efficiency and minimize service disruptions.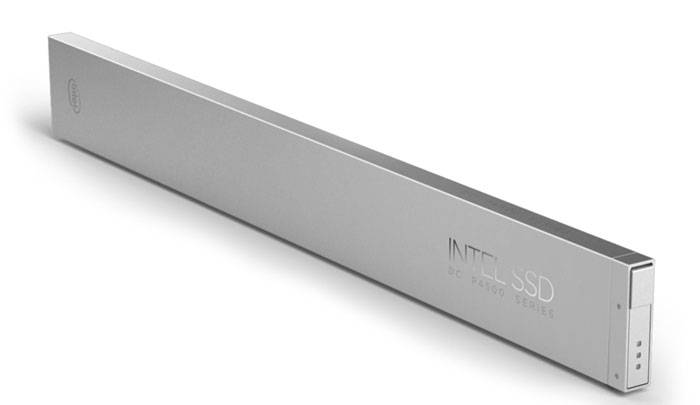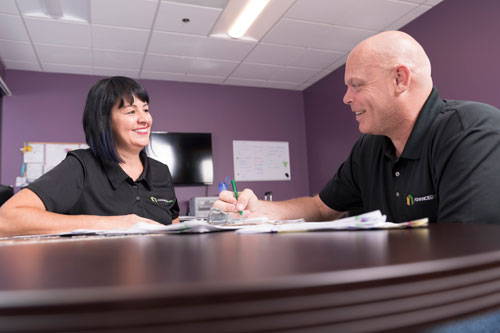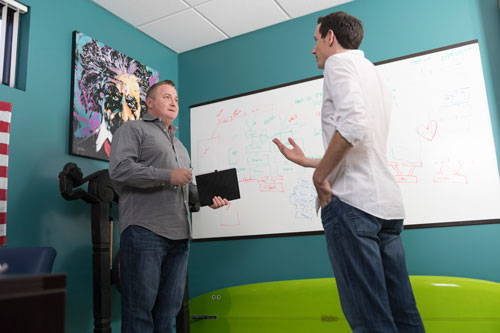 Advanced HPC customers get the best of both worlds – a partner that understands their industry needs and one that has the proven capabilities to develop, deploy and support the right HPC or AI solution unique to those needs. That's why the likes of Stanford University, Qualcomm, NASA, Memorial Sloan Kettering Cancer Center and truck automation start-up TuSimple turn to Advanced HPC, again and again.
The Intel® Server System S9200WK product family is ideal for your HPC and AI initiatives. Advanced HPC is equally ideal to transform those initiatives into reality by providing:
HPC AI workload integration
Best-in-class building blocks.
Access to the "latest and greatest" technology.
Best flops-per-dollar/capacity in the industry.
Thoroughly tested and certified solutions before shipping to customer.
Reliability with the track record to prove it.
Responsive sales and service teams at every step.
Each system is qualified by Advanced HPC engineers to ensure compatibility.
Lifetime technical support.
Single point of contact.