For more than 45 years, AMD has driven innovation in high performance computing (HPC), graphics and visualization technologies ― the building blocks for gaming, immersive platforms, and the datacenter. Hundreds of millions of consumers, leading Fortune 500 businesses and cutting-edge scientific research facilities around the world rely on AMD technology daily to improve how they live, work and play.
Featured Products
AMD EPYC™ 7000 Series
AMD EPYC 7000 series high performance processors power the data center with 32 cores, 64 threads, 8 memory channels with up to 2 TB of memory per socket,
and 128 PCIe-3 lanes coupled with the industry's first hardware-embedded x86 server security solution. EPYC natively supports up to 32 NVMe or SATA devices in both 1-socket and 2-socket designs, enabling streamlined Software Defined and Direct Attached Storage solutions. AMD's state-of-the-art GPUs combined with EPYC provide excellent solutions for your most demanding HPC applications.
Machine Learning (ML) can provide real-time decision making, critical to business operations. EPYC delivers a solid foundation for ML applications, such as proactive maintenance, fraud detection, network security monitoring, real-time trading and self-driving vehicles. EPYC can also help accelerate leading Big Data and In-Memory Database applications that require large memory sizes, high memory bandwidth and high-bandwidth I/O, to manage and analyze massive amounts of unstructured data.
AMD EPYC 1-Socket Solutions
IT organizations across the globe face budget and space constraints that are made worse by underutilized servers. Today those same datacenters lack the choice of a high-performance, 1-socket server designed to increase utilization and lower acquisition costs. AMD EPYC delivers on the promise of helping lower TCO and enables organizations to right-size for key data center workloads without feature compromise.
GPU Acceleration. EPYC enables up to 6 dedicated GPUs in a single-socket servers with peer-to-peer communication through the CPU. 2-socket and/or PCI switches are no longer needed to get the lanes required to achieve this level of GPU density.
Scale-Out Storage Solutions

Fast Storage. With EPYC's 128 PCIe lanes, you no longer need 2 sockets to get the high-bandwidth PCI lanes to allow dense NVMe storage solutions.
Cold Storage. Attach up to 32 SATA devices without the cost of an HBA.

Enterprise Business Applications. EPYC allows you to buy only what you need to support your enterprise business application requirements. No more second sockets need to go unused.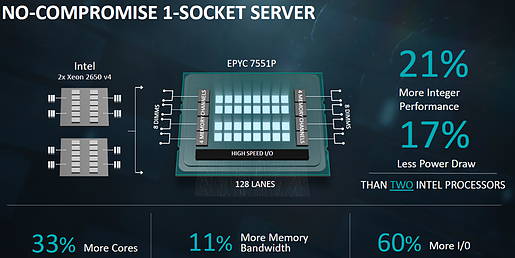 AMD EPYC 2-Socket Solutions
With up to 64 cores, 4 TB of memory, and 128 lanes of PCIe connectivity, 2-socket servers built with the AMD EPYC SoC have the flexibility, performance, and security to efficiently support the most demanding workloads.
Database Management and Analytics. With massive amounts of memory capacity and bandwidth, you can process mountains of information quickly, turning data into intelligence.
Private/Hybrid Cloud Environments. Even private clouds raise security concerns. AMD leading-edge security solutions enables the security of your cloud environment.
Virtualized Infrastructure. Whatever your virtualized workloads, you can get more VMs or more robustly configure your current number of VMs.
Learn how AMD EPYC™ brings more speed, power and precision to breakthrough genomics research. This video shares how Oregon State University's Center for Genome Research & Biocomputing (CGRB) employs customized Advanced HPC EPYC-powered server solutions for everything from assembling and annotating genomes to deep learning, machine learning and running sophisticated simulations. How AMD EPYC™ Accelerates Breakthrough Bio Research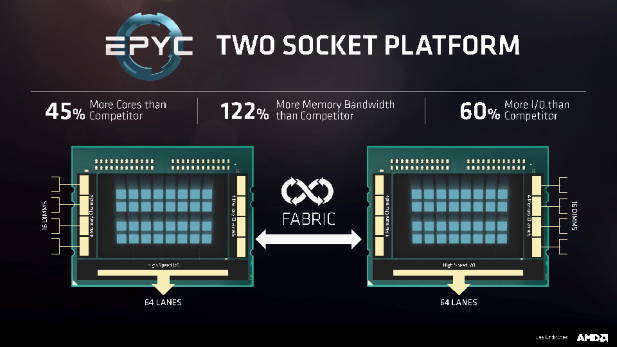 To help you optimize EPYC performance, we are providing a Compiler Options Quick Reference Guide.