Western Digital is a family of brands whose commitment is to deliver innovative, high-value datacenter, mobile, personal and consumer electronics storage solutions together with storage infrastructure consultation to the world's largest and most sophisticated OEMs, businesses and hyperscale cloud customers. Western Digital products have an excellent reputation for quality and reliability; offering award-winning enterprise optimization software and a broad portfolio of innovative, high-quality hard disk and solid state drives that store, manage and help protect the world's data. Western Digital's innovative science and unique technology vision, combined with its deep understanding of customers' needs and market opportunities, sets it apart as one of Advanced HPC's Elite Partners.
Featured Products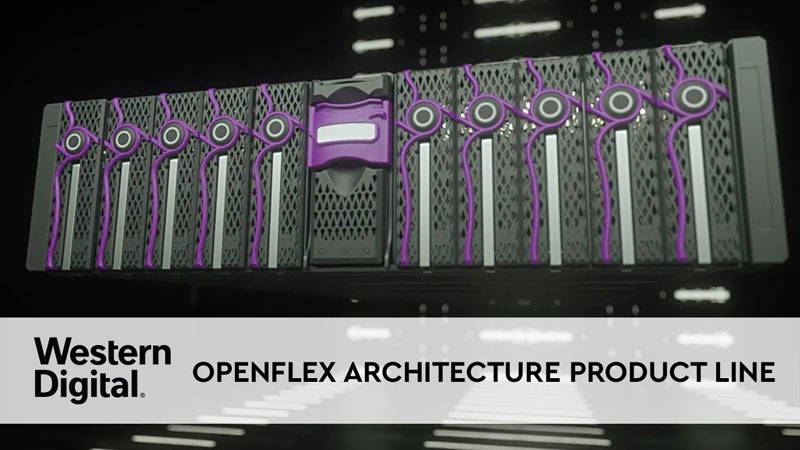 Western Digital's family of OpenFlex fabric-attached products are now available in a variety of performance levels and capacities to enable data center architects and IT managers to purpose-build a scalable and flexible data center for their unique needs.
Products include:
OpenFlex™ F3000* Series Fabric Device: For performance intensive Fast Data applications. Available in capacities up to 61TB4, it delivers low-latency NVMe flash performance over two 50Gb5 Ethernet ports.
OpenFlex ™ E3000 Series Fabric Enclosure: A 3U enclosure that houses up to ten hot swappable F3000 fabric devices.

OpenFlex™ D3000* Series Fabric Device: For capacity intensive Big Data applications. The 1U device offers up to 168TB of hard disk capacity over two 25Gb Ethernet ports.

* OpenFlex F3000 and OpenFlex D3000 can be hot-plugged to and from the network.
For a closer look at the OpenFlex product line and architecture, please view this video.
OpenFlex™ F3000 Series Fabric Device
OpenFlex™ D3000 Series Fabric Device
Ultrastar Data102
The Ultrastar Data102 is a key element of next-generation disaggregated storage and software-defined storage (SDS) systems, delivering extreme density and the flexibility to balance performance with cost. The Ultrastar Data102 provides up to 1.2PB of raw storage in a compact and efficient form factor. HGST HelioSeal® drives ensure cool running, quiet operation and high reliability. A high performance data tier can be set up for demanding applications by using SSDs in up to 24 of the drive slots. Additionally, it features two new technologies: Arctic Flow and IsoVibe. IsoVibe reduces vibration-induced performance degradation, while ArcticFlow overcomes the cooling issues by introducing cool air into the middle of the platform. Both these technologies contribute to long-term reliability, enabling our five-year limited warranty on the entire platform.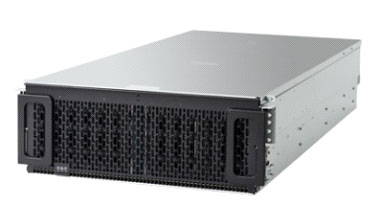 High Density – Up to 102 HGST HelioSeal® HDDs, providing up to 1.2PB of raw storage in a 4U enclosure.
Flexible – Choice of SAS or SATA and up to 24 slots can be populated with SSDs for a data acceleration tier.
Innovative – Patented IsoVibe™ and ArcticFlow™ technologies improve performance and cooling.
Ultrastar Data102 Hybrid Storage Platform Data Sheet
Getting into Software-Defined Storage
Ultrastar Serv60+8
A hybrid storage server that balances high density and performance with low cost for demanding workloads in Software-Defined Storage (SDS) environments, the Ultrastar Serv60+8 addresses the demanding needs of large enterprise customers, OEMs, cloud service providers, and resellers/integrators that require dense, shared HDD or hybrid storage with compute included. The Ultrastar® Serv60+8 hybrid storage server offers a choice of CPUs, memory, and drives, providing the flexibility to balance capacity, performance and cost.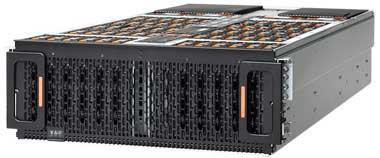 High Density – Up to 60 HGST HelioSeal® HDDs providing up to 780TB of raw storage in a 4U enclosure
Hybrid – Support for up to 32 SSDs within the server for data acceleration
Innovative – Patented IsoVibe™ and ArcticFlow™ technologies improve reliability and reduce power costs
UltraStar Serv60+8
Advanced HPC partners with leading innovators in high performance computing—companies whose products and solutions deliver the best-in-class technology our customers expect from us. The close working relationships we have with these elite brands allow us to offer our customers the broadest possible range of solutions, customized to meet the demands of their respective industries.