Find out why we were the first Platinum Partner of BeeGFS in the US – and the fastest growing reseller in BeeGFS history – Advanced HPC is positioned like no other to provide the caliber of customized BeeGFS solutions you want and need. Please refer to our press release for full details!
10 Reasons Advanced HPC Should be Your BeeGFS Partner (What Does the Platinum Status Mean for You?)
Peerless, market-leading BeeGFS expertise and experience.
Genuinely customized, made-to-order BeeGFS solutions dialed-in to your most exacting demands. Plus, we back it up with an unbeatable level of support and service.
Best-in-class system architecture consultation and comprehensive building block design assistance, from earliest iteration to install.
Inside track on the very latest BeeGFS technology breakthroughs and developments; continuously presenting you with new options and considerations.
In-depth comparison of performance numbers and IOPS as needed to help you make the most informed decision.
Because our engineers have worked alongside BeeGFS engineers on an extensive array of projects with a host of diverse demands, we have a level of intimate BeeGFS product familiarity that no one else in the domestic market can match. (You name it, we've done it!)
Advanced HPC's holistic approach enables us to accommodate funding and budget constraints without impinging upon quality and performance.
On-prem lab and production facility allows for ample file server testing and fine-tuning.
Our long-standing, robust relationship with the BeeGFS and ThinkParQ teams. We maintain constant contact with our colleagues in Germany to keep the communication fluid and accelerate idea sharing.
We provide discernible, meaningful value-adds at every step of the sales and installation process. Whether you need a last-minute question answered by our engineers or want an extra ounce of reassurance with a virtual white board session – we are committed to doing whatever we can to help make your buying journey as smooth and pleasant as possible.
What's BeeGFS?
BeeGFS (formerly FhGFS) is a leading parallel cluster file system, designed specifically to manage I/O intensive workloads in performance-critical environments. Earning global acclaim from leading enterprises, universities and researchers for ease of installation, maximum scalability, robustness and exceptional flexibility – including converged setups where storage servers are also used for compute jobs – BeeGFS increases productivity by delivering results faster and enabling new data analysis methods that were not possible before its inception.
BeeGFS is a software-defined storage based on the POSIX file system interface, which means applications do not have to be rewritten or modified to take advantage of BeeGFS. BeeGFS clients accessing the data inside the file system, communicate with the storage servers via network, via any TCP/IP based connection or via RDMA-capable networks like InfiniBand (IB), Omni-Path (OPA) and RDMA over Converged Ethernet (RoCE). This is similar for the communication between the BeeGFS servers.
No specific enterprise Linux distribution or other special environment is required to run BeeGFS. BeeGFS client and servers can even run on the same machine to enable performance increases for small clusters or networks.
BeeGFS requires no dedicated file system partition on the servers – It uses existing partitions, formatted with any of the standard Linux file systems, e.g. XFS or ext4. For larger networks, it is also possible to create several distinct BeeGFS file system partitions with different configurations.
BeeGFS vs. Traditional File Systems
BeeGFS was created to overcome the limitations and restrictions of traditional files systems (see below); avoid architectural bottlenecks; and address modern HPC, cognitive market IO profile demand.
In this architecture, dedicated Linux kernels modules are required to mount the file system on the client side, manage metadata on dedicated server components and orchestrate objects on dedicated server components to strip them over several hardware nodes; aggregating the performance to clients and application. However, the problems with this approach are three-fold:
It is difficult to learn and manage.
It is not designed for small and large files/IO profiles (which interfere with the performance on critical project and data).
The expense can make it very cost prohibitive in many cases.
Fraunhofer-Gesellschaft, the leading organization for applied research in Europe, and its progeny, The Fraunhofer Center for High Performance Computing (Fraunhofer), came along and decided that there had to be a BETTER way. That's why they developed BeeGFS and delivered it to the market with Fraunhofer spin-off ThinkParQ GmbH.
BeeGFS: A New Standard for Performance and Scalability
BeeGFS offers maximum performance and scalability on various levels. It supports distributed file contents with flexible striping across the storage servers on a file or by directory base as well as distributed metadata.
BeeGFS is easy to use and requires no kernel patches. The client is a patchless kernel module, while the server components are user space daemons (more on the user space daemons below). It comes with graphical cluster installation tools and allows you to add more clients and servers to the running system whenever you want it.
The native BeeGFS client and server components are available for Linux on x86, x86_64, and OpenPOWER, ARM64 as well as other architectures. BeeGFS transparently spreads user data across multiple servers. By increasing the number of servers and disks in the system, you can simply scale performance and capacity of the file system to the level that you need, seamlessly from small clusters up to enterprise-class systems with thousands of nodes.
Game-Changing User Space Concept
The BeeGFS user space concept is state-of-the-art in every respect. Empowering customers to manage any IO profile requirement, it can be used flexibly for both very small and large files at the same time. The reason is that while the metadata service daemon manages the striping information for the files, it is not involved in the data access of the file open/close process. This means that all resources of the underlying file system(s) are delivering full bandwidth on the network and the engaged hardware components. The resulting versatility allows BeeGFS to be used in converged, hyper-converged (minimum 1 storage node) and classical HPC infrastructures.
Primary BeeGFS Enterprise Features
High Availability
Quota Enforcement
Access Control Lists (ACLs)
Storage Pools
Burst buffer function with BeeOND
High Availability
Storage and metadata mirroring with high availability is based on so-called "buddy groups." In general, a buddy group is a pair of two targets that internally manage data replication between each other. The buddy group approach allows one half of all servers in a system to fail while all data is still accessible. It can also be used to put buddies in different failure domains or different fire domains, e.g. different racks or different server rooms.

The built-in BeeGFS Buddy Mirroring automatically replicates data, handles storage server failures transparently for running applications and provides automatic self-healing when a server comes back online, efficiently resyncing only the files that have changed while the machine was offline.
Storage server buddy mirroring can also be used with an odd number of storage servers. This works, because BeeGFS buddy groups are composed of individual storage targets, independent of their assignment to servers, as shown in the following example graphic with 3 servers and 2 storage targets per server.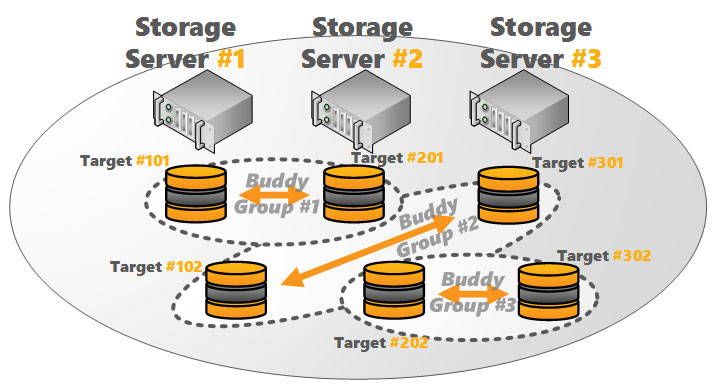 Quote Enforcement
BeeGFS allows the definition of system-wide quotas of disk space allocation and number of chunk files, on a per-user or per-group basis. This can be used to organize users in different access layers with different levels of restriction and also prevent individuals from consuming alone all file system's resources.
The BeeGFS quota management mechanism is composed of two features:
Quota Tracking
Quota Enforcement
Quota tracking allows the query of the amount of data and the number of chunk files that users and groups are using in the system, without imposing any restriction.
Quota enforcement allows the definition and application of quota limits in the whole system. When this feature is enabled, the BeeGFS management daemon periodically collects quota reports from all storage targets in regular intervals, checks for exceeded quota limits, and informs the rest of the system about which users are no longer allowed to consume more resources.
Access Control Lists
In BeeGFS, Access Control Lists (ACLs) are stored as extended file attributes of metadata files. The ACL capability users to permit or deny traffic from specific IP addresses to a specific destination IP address and port. Extended ACLs check the source packet addresses, destination address, protocols and port numbers. Generally speaking, BeeGFS' Extended ACLs provide a greater range of control, resulting in improved security.
Storage Pools
To enable users to get the full all-flash performance for the projects on which they are currently working, the BeeGFS storage pools feature makes the flash drives explicitly available to the users. This way, users can request from BeeGFS (through the beegfs-ctl command line tool) to move the current project to the flash drives and thus all access to the project files will be served directly and exclusively from the flash drives without any access to the spinning disks until the user decides to move the project back to the spinning disks.
BeeGFS introduced the feature storage pools to allow the cluster admin to group targets and mirror buddy groups together in different classes. For instance, there can be one pool consisting of fast, but small solid-state drives, and another pool for bulk storage, using big but slower spinning disks. Pools can have descriptive names, making it easy to remember which pool to use without looking up the storage targets in the pool.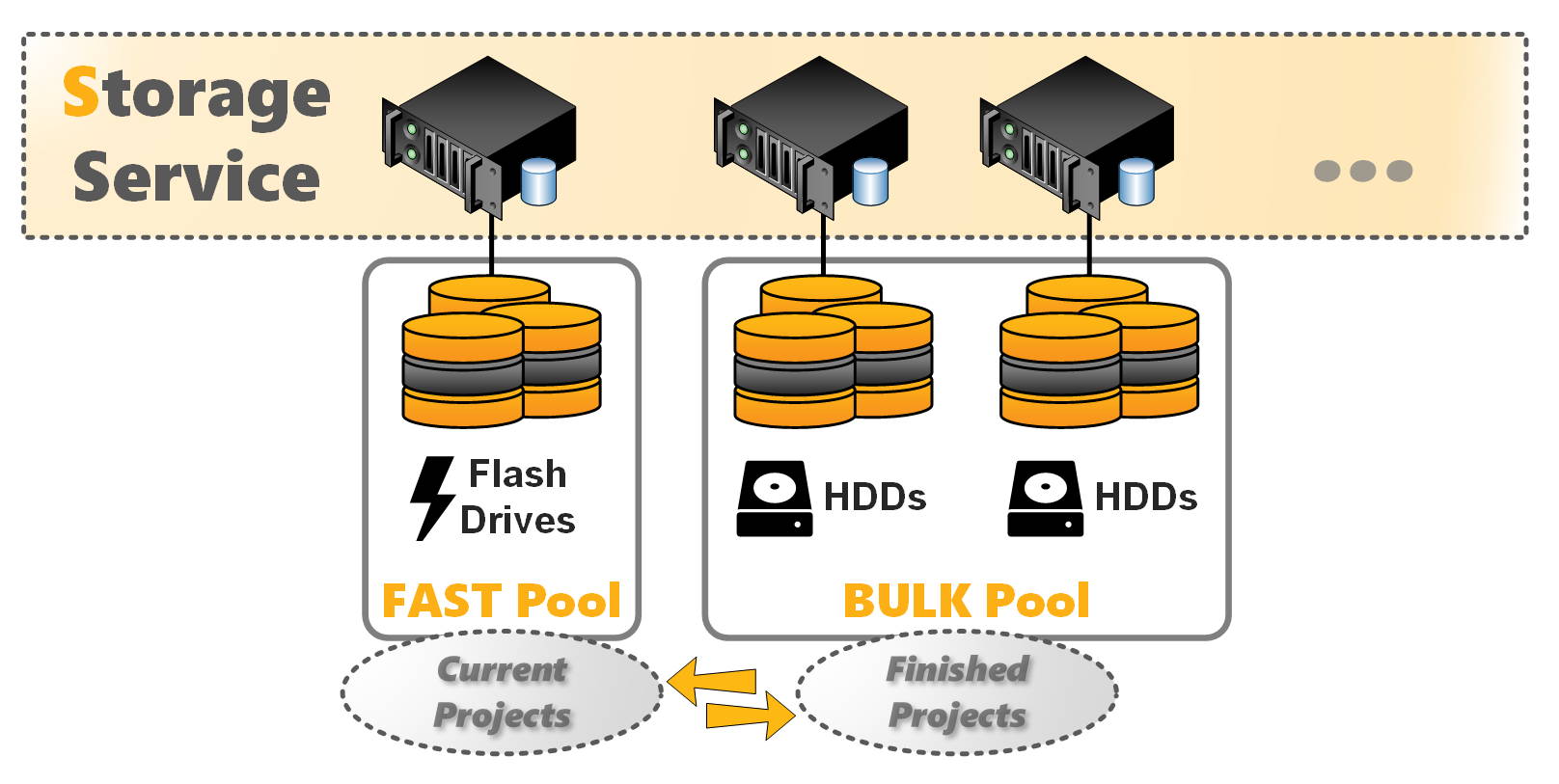 BeeOND: BeeGFS On Demand (Burst Buffering)
Compute nodes of a cluster typically are equipped with internal flash drives to store the operating system and to provide a local temporary data store for applications. But using a local temporary data store is often inconvenient or not useful for distributed applications at all, as they require shared access to the data from different compute nodes and thus the high bandwidth and high IOPS of the SSDs is wasted.
BeeOND (dubbed "beyond" and short for "BeeGFS On Demand") was developed to solve this problem by enabling the creation of a shared parallel file system for compute jobs on such internal disks. The BeeOND instances exist temporary exactly for the runtime of the compute job exactly on the nodes that are allocated for the job. This provides a fast, shared all-flash file system for the jobs as a very elegant way of burst buffering or as the perfect place to store temporary data.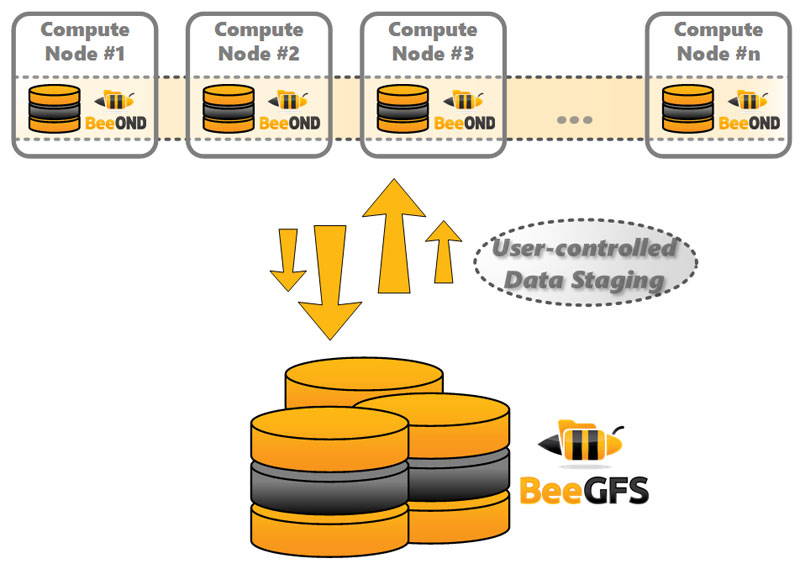 Assistant Professor of Electrical and Computer Engineering
San Diego State University
"The BeeGFS parallel cluster file system from ThinkParQ excels in performance for I/O intensive workloads by improving the runtime of I/O bound computation."
"Advanced HPC built a BeeGFS system that was tailored to our needs and funding constraints. SDSU's partnership with Advanced HPC has been fantastic and we are quite impressed with Advanced HPC's ability to build, configure, and tune the BeeGFS file server in their lab, deliver it on time, and help us install it in our computational science data center."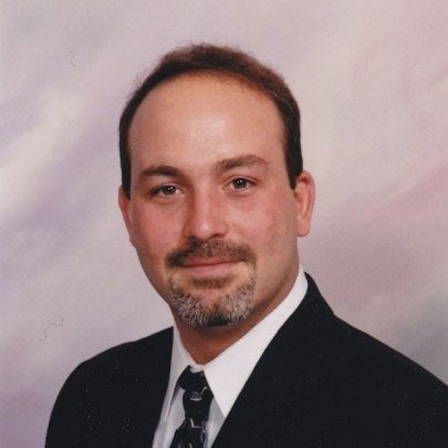 Assistant Director for Biocomputing at Oregon State University and
Director of the Center for Genome Research and Biocomputing
"BeeGFS is a robust solution that expands our storage space, gives us higher performance with phenomenal management and all at a cost-effective price."
"I value the relationship with Advanced HPC because they keep moving forward with new technology at prices that allow my research team to move without bounds. Additionally, the support we have received from Advanced HPC has helped us expand into cutting-edge research that we weren't able to do before."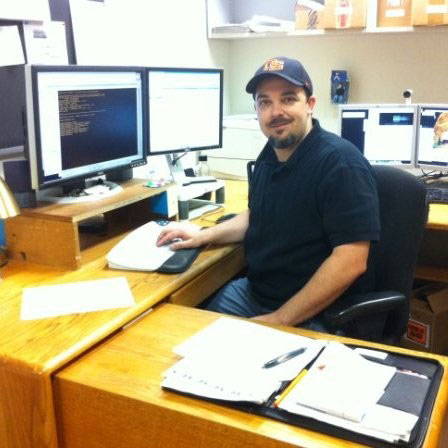 CEO of ThinkParQ (Parent Company of BeeGFS)
"Advanced HPC is building high quality BeeGFS turnkey solutions for HPC and cognitive customers in the US. Over the last year, we have seen an outstanding level of customer satisfaction and systems that regularly exceeded customer expectations in throughput, manageability and technical support. Thus, we are very proud to have Advanced HPC as the world's first BeeGFS Platinum Partner in the US."