NVIDIA MGA100-HS2 Skyway InfiniBand to Ethernet Gateway Appliance
SKU: MGA100-HS2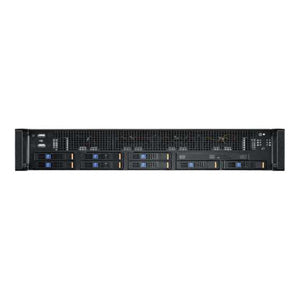 Key Features:
Standard 2U appliance
1.6Tb/s solution
8-port HDR/HDR100/EDR
8-port 200/100Gb/s Ethernet
---
Request a Quote
Description
NVIDIA MGA100-HS2 Skyway InfiniBand to Ethernet Gateway Appliance 8x IB and 8x Ethernet Ports 2U Server 8x ConnectX-6 VPI Dual-Port HDR/200GbE Adapters 2 Power Supplies (AC)
Skyway InfiniBand to Ethernet Gateway
NVIDIA InfiniBand solutions incorporate In-Network Computing technology that performs data algorithms within the network devices, delivering ten times higher performance, and enabling the era of data-centric data centers. By delivering the fastest data speed, extremely low latency, smart accelerations and the highest efficiency and resiliency, InfiniBand is the best choice for connecting the world's top HPC and artificial intelligence (AI) supercomputers.
Many high-performance compute and storage infrastructures leverage the InfiniBand interconnect solution to connect both the compute and the storage portion together. However, in cases where the Storage elements reside on an external Ethernet network, or when outside connectivity to Ethernet is needed, a high-performance gateway between the InfiniBand and Ethernet networks can be used. By using NVIDIA Skyway, one can ensure the lowest latency for the internal data center compute communications, and scale the external connectivity to Ethernet as needed via the gateway.
Benefits
Industry leading InfiniBand to Ethernet gateway
Standard protocols
High Availability and Load Balancing support
Future-ready architecture
Key Features
Standard 2U appliance
1.6Tb/s solution
8-port HDR/HDR100/EDR
8-port 200/100Gb/s Ethernet
Product Details
| | |
| --- | --- |
| Switch Family | MGA100 |
| Max Ports | 8xIB and 8xGbE |
| Max Speed | HDR and 200GbE |
| Technology | InfiniBand |