About Super Micro Computer (Supermicro)
Super Micro Computer (NASDAQ: SMCI) is a global leader in high performance, high efficiency server technology and innovation. They develop and provide end-to-end green computing solutions to the data center, cloud computing, enterprise IT, big data, high performance computing (HPC), and embedded markets.
They perform the majority of their research and development efforts in-house, which increases the communication and collaboration between design teams, streamlines the development process and reduces time-to-market. They have developed a set of design principles which allow them to aggregate individual industry standard components and materials to develop proprietary products. This building block approach allows them to provide a broad range of SKUs, and enables them to build and deliver application-optimized solutions based upon customers' requirements.
With over $2 billion in revenues and 5x growth in 6 years, Supermicro is ranked as the #1 fastest growing IT company in the world and #18 fastest growing company overall by Fortune Magazine.
Featured Products
All-Flash 1U Server with 256TB of Hot-swap NVMe Optimized Intel "Ruler" Drives
In order to maximize data center storage density, Supermicro announced in early May of 2018 that it is introducing a new look all-flash NVMe™ (Non-Volatile Memory Express) 1U SuperServer and 1U JBOF (Just a Bunch Of Flash) to support 32 front loading hot-swap Intel® "Ruler" form factor NVMe SSDs.
The ruler form factor Intel SSD DC P4500, resembling a 12-inch ruler and hence its name, supports cloud storage and software-defined infrastructures as well as allows for scaling higher capacity per SSD and fitting more SSDs per server to deliver increased storage density (TB per rack unit).
Leveraging this new ruler form factor, Supermicro's new 1U NVMe systems provide a more thermally optimized high-density, high-performance all-flash storage solution compared to previous all-flash storage technologies. The systems support front hot-swap accessibility to 32 ruler drives for up to 256TB of fast low-latency NVMe storage in 1U.
Supermicro's NVMe 1U system supports not only the ruler form factor Intel SSDs, but also standard U.2 SSDs to offer customers greater storage flexibility.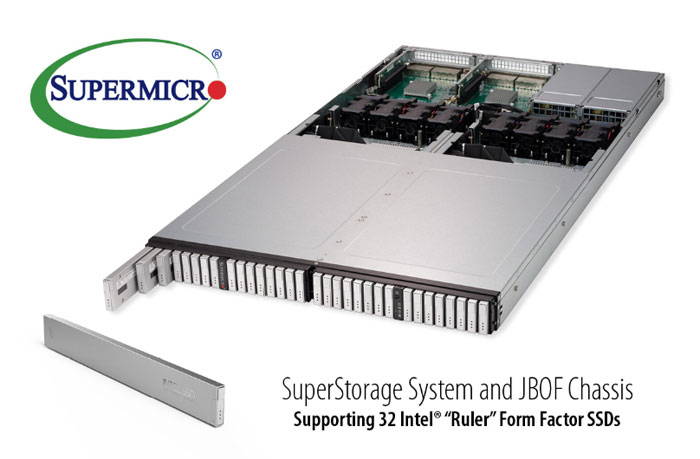 Supermicro's GPU Server Platforms Supporting the NVIDIA Tesla GPU Portfolio
At GTC18, Supermicro showcased the industry's most extensive selection of GPU server platforms that support NVIDIA® Tesla® V100 PCI-E and V100 SXM2 GPUs.
For ultimate acceleration of highly parallel applications like artificial intelligence (AI), deep learning, self-driving cars, smart cities, health care, big data, HPC, and virtual reality among others, Supermicro's new 4U system with next-generation NVIDIA NVLink™ interconnect technology is optimized for peak performance. SuperServer 4029GP-TVRT supports eight NVIDIA Tesla V100 32GB SXM2 GPU accelerators with maximum GPU-to-GPU bandwidth for cluster and hyper-scale applications. Incorporating the latest NVIDIA NVLink technology with over five times the bandwidth of PCI-E 3.0, this system features independent GPU and CPU thermal zones to ensure uncompromised performance and stability under the most demanding workloads.
The 4U SuperServer 4029GR-TRT2 system can support up to 10 PCI-E NVIDIA Tesla V100 accelerators with Supermicro's innovative and GPU-optimized single root complex PCI-E design, dramatically improving GPU peer-to-peer communication performance. Supermicro's single-root GPU system allows multiple NVIDIA GPUs to communicate efficiently to minimize latency and maximize throughput as measured by the NCCL P2PBandwidthTest.
For even greater density, the SuperServer 1029GQ-TRT supports up to four NVIDIA Tesla V100 PCI-E GPU accelerators in only 1U of rack space and the new SuperServer 1029GQ-TVRT supports four NVIDIA Tesla V100 SXM2 32GB GPU accelerators in 1U.
Please click below to review the flyer furnishing complete details and specs on the 1U SuperServer 1029GQ for your reference.

More All-Flash NVMe Servers for More Applications: X11 Family of Server and Storage Solutions.
Breakthrough NVMe Performance with Full Support for Intel® Xeon® Scalable Processors.
By deploying Supermicro NVMe, customers can benefit from reduced latency, increased Input/Output operations per second (IOPS), and lower power consumption. The ROI benefits from NVMe deployments is immediate and substantial. Supermicro solutions will perform more work in less time which translates into lower costs and increased revenues.
The new generation X11 NVMe systems take this exceptional technology to the next level, offering even higher performance and first-to-market technologies. Supermicro NVMe SuperServers offer up to: 3TB ECC 3DS LRDIMM or RDIMM DDR4-2666MHz memory in 24 DIMMs; 7 PCI-E slots SAS 3.0/SATA 3.0/NVMe hot-swap HDD/SSD support; 10GBase-T/10G SFP+/56Gbps FDR InfiniBand networking options; redundant Titanium Level (96%+) Digital power supplies; IPMI 2.0 plus KVM with dedicated LAN; and supports the latest generation Intel Xeon Processor Scalable CPUs for up to 205W TDP.
The X11 portfolio includes:
1U/2U Ultra SuperServers with best-in-class flagship performance.
BigTwin™ with the highest performance and density in a 2U 4-node design; support for 24 DIMMs, six hot-swap NVMe drives and flexible networking capability for each node.
4U FatTwin™ in a variety of I/O, memory and storage combinations for most optimized cloud, HPC and Enterprise applications.
SuperBlade® 2 and 4-socket Xeon blade servers supporting 205W TDP CPU, NVMe, with integrated 100G Intel Omni-Path switch, 100G EDR InfiniBand switch, 25G/10G Ethernet switches, redundant AC/DC power supplies, and Battery Backup (BBP), making them ideal for Enterprise, Cloud, and HPC applications.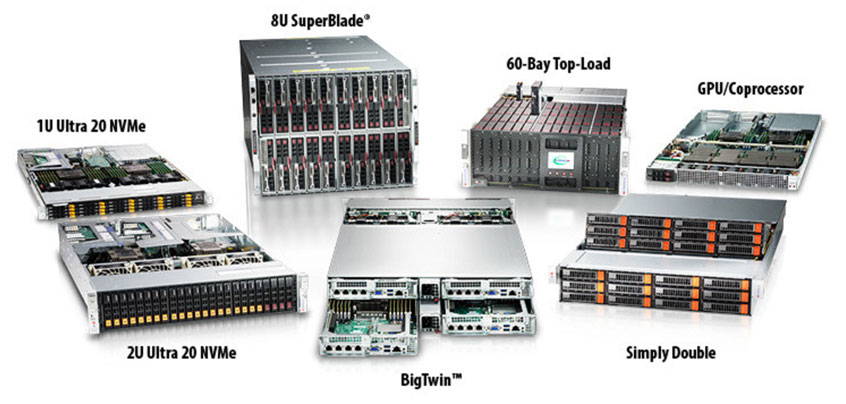 Other Supermicro high-performance storage solutions addressing a wide range of needs and applications include:
SuperServers with GPU/co-processors optimized for AI/Deep Learning/HPC workloads.
SuperStorage solutions including 45/60-bay 4U top-loading systems with 6 built-in NVMe drives for I/O optimization 2U Simply Double systems.
1U/2U/3U/4U general-purpose storage systems and 2U Storage Bridge Bay solutions.
2U/4U/Tower Mainstream SuperServers targeted at entry-level and volume markets for significant CAPEX/OPEX savings.
1U/2U WIO solutions with a wide-range of I/O options optimized for network or security appliances.
UP servers and 4U/Tower SuperWorkstations built with server-grade components for engineering and creative professionals looking for ultimate performance and expandability on their desks.
Top Enterprise Server Solutions for Mission Critical Applications: Supermicro MP Servers.
Multi-Processor Server Systems for Enterprise-Class Large In-Memory Computing Needs.
8-Way/4-Way
Supermicro X11 MP systems are optimized for enterprise mission critical applications from scale-up HPC workloads to Advanced Analytics and Virtualization.
Supermicro's 7089P-TR4T (i.e., 7U 8-Way) supports eight Intel® Xeon® Scalable processors with three Intel Ultra Path Interconnects (UPIs) per CPU at 10.4 GT/s to deliver next-generation 8-socket server performance. Customers can realize the utmost potential of their HPC clusters or in-memory databases by installing up to 12TB of DDR4 memory, 41 NVMe devices (32 hot-swap), 23 PCI-E 3.0 cards, or eight double-width GPU cards.
For enterprise-class resiliency, the system comes standard with over 40 built-in advanced RAS features to deliver enterprise class reliability, availability and security.
The 7089P-TR4T extends Supermicro's impressive multi-processor (MP) portfolio which also includes SuperServer 2049U-TR4, a four-socket Ultra server that supports four Intel Xeon Scalable processors, up to 6TB of memory, 24 hot-swap 2.5″ drives (up to 4 NVMe), 11 PCI-E 3.0 slots, and flexible networking options in a 2U form factor.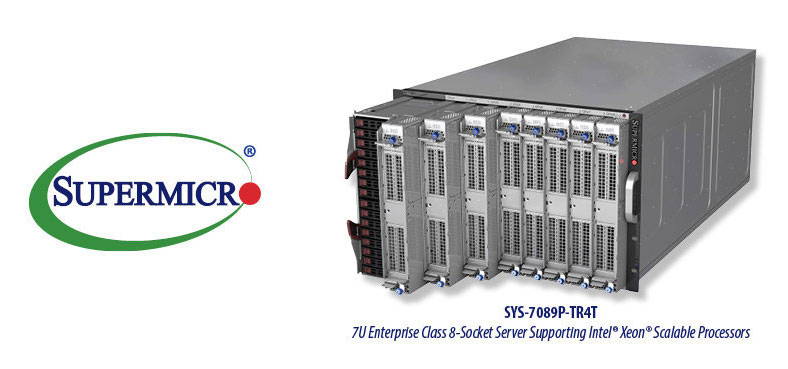 New Generation A+ Solutions
Broadest Server and Storage Portfolio Optimized for New AMD EPYC™ 7000 Series
Supermicro's latest range of AMD EPYC™ 7000 Series SoC-based server and storage solutions offer new levels of optimized performance per watt per dollar, and deliver outstanding core density, superior memory bandwidth, and unparalleled I/O capacity.
Supporting up to 32 "Zen" cores and 64 threads per socket, these Supermicro solutions are tightly coupled with high-throughput, low-latency, hot-swappable NVMe storage, up to 4TB of DDR4 memory over 8 memory channels per socket, and up to 128 PCI-E 3.0 lanes on a dual- or single-socket system.
Supermicro's new generation A+ solutions supporting AMD EPYC enable a new range of powerful and energy-efficient server options to radically lower data center TCO through an optimized balance of compute, memory, I/O, and storage resources.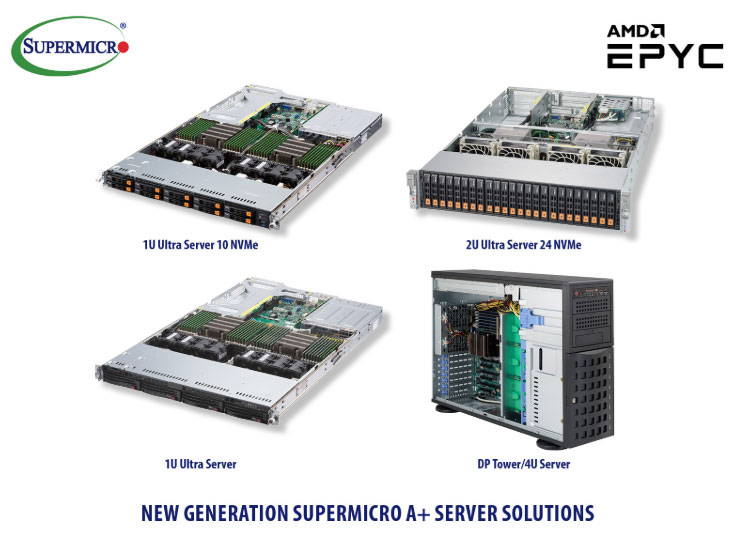 Advanced HPC's elite partnership with Supermicro® allows us to choose the optimal solution which fits your computing needs. Supermicro® offers a high degree of flexibility and customization by providing the industry's broadest array of server configurations. Supermicro server systems, subsystems and accessories are architecturally designed to provide high levels of reliability, quality and scalability, thereby enabling our customers to benefit in the areas of compute performance, density, thermal management and power efficiency to lower their overall total cost of ownership.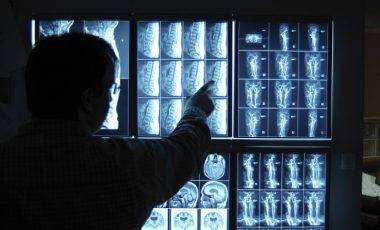 Case Studies
Perform AI-Driven Medical Imaging Efficiently and Cost-Effectively on Intel® CPU–Based Systems
Philips demonstrated breakthrough performance for AI inferencing of healthcare workloads run on servers powered by Intel® Xeon® Scalable processors and optimized with the OpenVINO™ toolkit.