The World's First AI System Built on NVIDIA A100
Part of the NVIDIA DGX™ platform, NVIDIA DGX A100 is the universal system for all AI workloads, offering unprecedented compute density, performance, and flexibility in the world's first 5 petaFLOPS AI system. Featuring the NVIDIA A100 Tensor Core GPU, DGX A100 enables enterprises to consolidate training, inference, and analytics into a unified, easy-to-deploy AI infrastructure that includes direct access to NVIDIA AI experts.
Essential Building Block of the AI Data Center
The Universal System for Every AI Workload
NVIDIA DGX A100 is the universal system for AI infrastructure, packing 5 petaFLOPS of AI performance into a 6U form factor, replacing legacy infrastructure silos with one platform for every AI workload.

Integrated Access to AI Expertise
Included with every DGX is access to
NVIDIA DGXperts, a global team of 20,000+ AI-fluent professionals who have built a wealth of experience over the last decade to help you maximize the value of your DGX investment.

Integrating eight A100 GPUs with 320GB
or 640GB of GPU memory, the system provides unprecedented acceleration, is built on NVIDIA Base Command™ software, and includes NVIDIA AI Enterprise for a fully optimized experience.

NVIDIA DGX A100 features NVIDIA® ConnectX®-7 InfiniBand/Ethernet network adapters with 500 gigabytes per second (GB/s) of peak bidirectional bandwidth. DGX A100 is a foundational building block for NVIDIA DGX SuperPOD™, the enterprise blueprint for scalable AI infrastructure.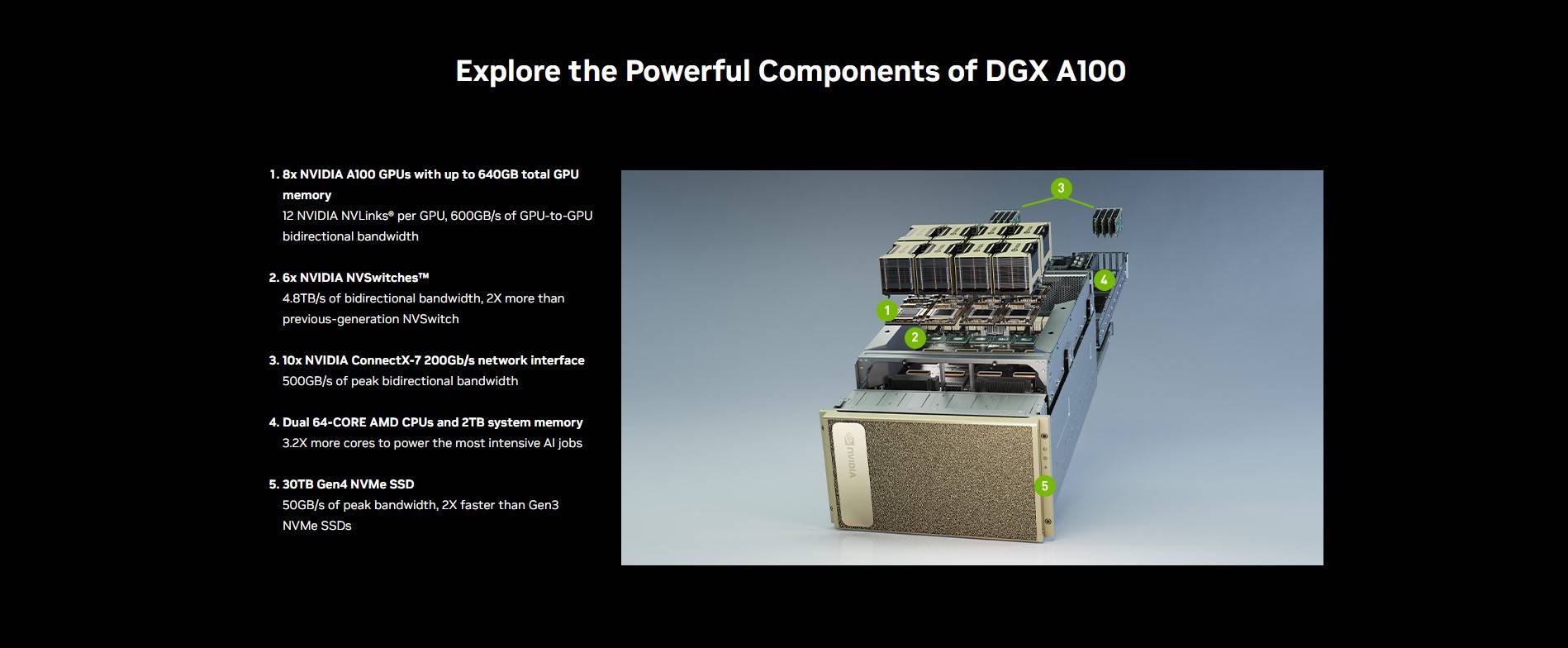 Accelerate Outcomes Across the Enterprise With AI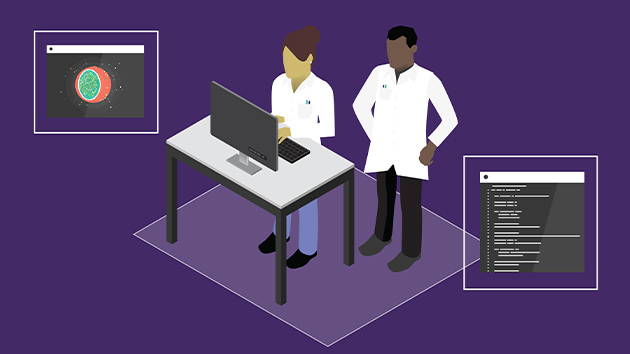 Solve Bigger, More Complex Data Science Problems Faster
Benefits
Eliminate tedious set up and testing with ready-to-run, optimized AI software
Create better models faster with unmatched performance that enables more iterations.
Avoid time lost on systems integration and software engineering.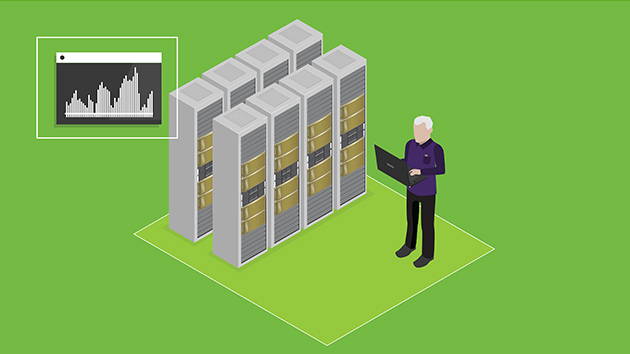 Deploy Infrastructure and Operationalize AI at Scale
Benefits
Experience simplified infrastructure design and capacity planning with one system for all AI workloads.
Achieve the highest compute density and performance in the smallest footprint.
Take advantage of built-in security at every layer.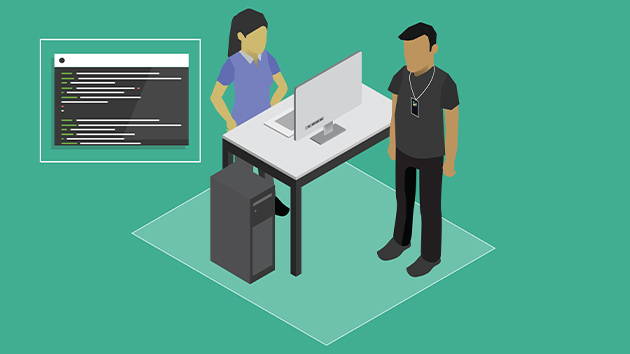 Shorten Time to Insights and Accelerate ROI of AI
Benefits
Increase data scientist productivity and eliminate non-value-added effort.
Accelerate the development cycle, from concept to production.
Remove roadblocks with advice from DGXperts.
The Technology Inside NVIDIA DGX A100
NVIDIA A100 Tensor Core GPU
The NVIDIA A100 Tensor Core GPU delivers unprecedented acceleration for AI, data analytics, and high-performance computing (HPC) to tackle the world's toughest computing challenges. With third-generation NVIDIA Tensor Cores providing a huge performance boost, the A100 GPU can efficiently scale up to the thousands or, with Multi-Instance GPU, be allocated as seven smaller, dedicated instances to accelerate workloads of all sizes.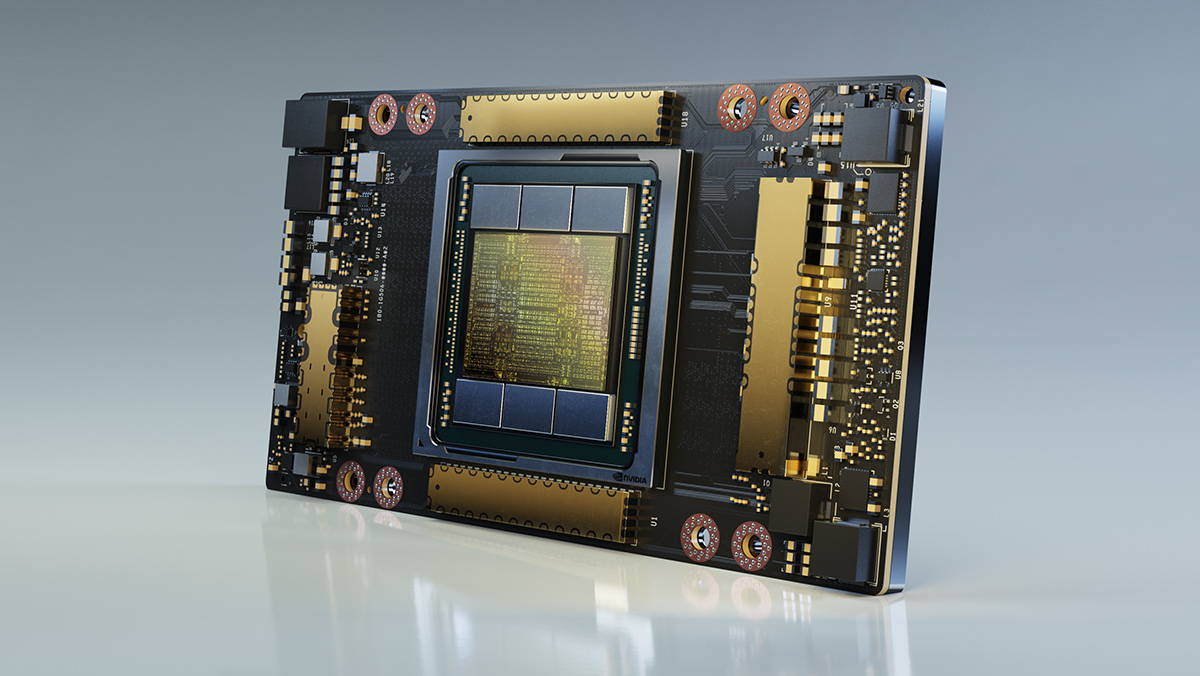 Multi-Instance GPU (MIG)
With MIG, the eight A100 GPUs in DGX A100 can be configured into as many as 56 GPU instances, each fully isolated with their own high-bandwidth memory, cache, and compute cores. This allows administrators to right-size GPUs with guaranteed quality of service (QoS) for multiple workloads.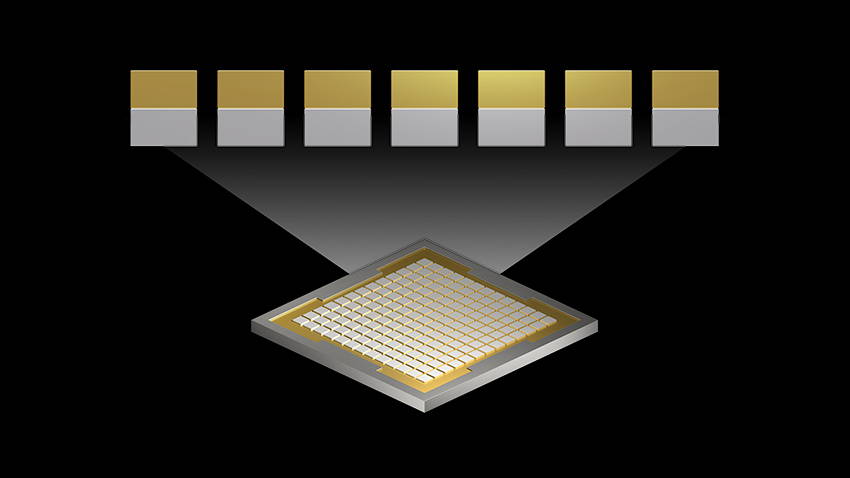 Next-Generation NVLink and NVSwitch
The third generation of NVIDIA® NVLink™ in DGX A100 doubles the GPU-to-GPU direct bandwidth to 600 gigabytes per second (GB/s), almost 10X higher than PCIe Gen4. DGX A100 also features next-generation NVIDIA NVSwitch™, which is 2X times faster than the previous generation.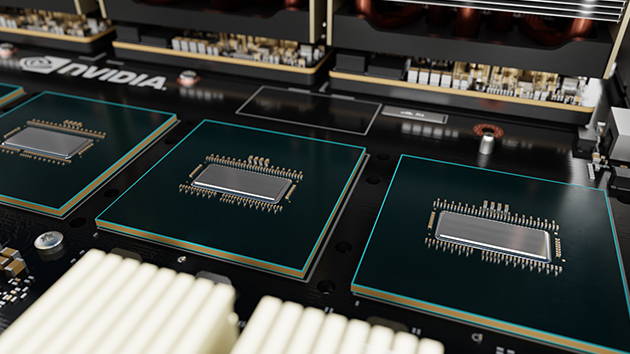 NVIDIA ConnectX-7 200Gb/s InfiniBand/Ethernet
DGX A100 features the NVIDIA ConnectX-7 InfiniBand and VPI (Infiniband or Ethernet) adapters, each running at 200 gigabits per second (Gb/s) to create a high-speed fabric for large-scale AI workloads. DGX A100 systems are also available with ConnectX-6 adapters.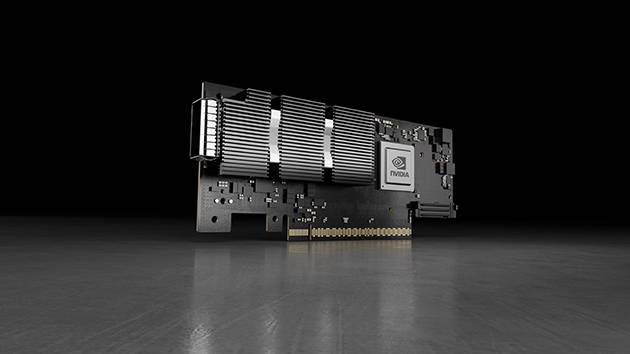 Optimized Software Stack
DGX A100 integrates a tested and optimized DGX software stack, including an AI-tuned base operating system, all necessary system software, and GPU-accelerated applications, pre-trained models, and more from NGC™.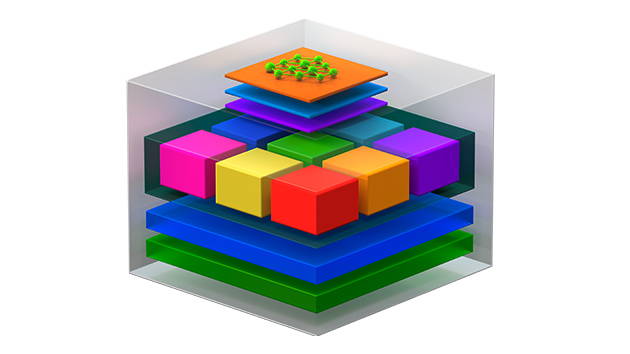 Built-In Security
DGX A100 delivers the most robust security posture for AI deployments, with a multi-layered approach stretching across the baseboard management controller (BMC), CPU board, GPU board, self-encrypted drives, and secure boot.